Welcome to the Parody & Drama Alumni Network!
Bringing together alumni of the HLS Parody and other HLS Drama Society productions to build our community across geographies and generations.
Not receiving our emails?
If you should be receiving emails from the Parody & Drama Society Alumni Network, but you're not, here are a few steps to take:
·Try adding hlsa@law.harvard.edu and email_watch@omnimagnet.net to your safe sender lists so emails aren't blocked.
·Check your HLSA profile to make sure your contact information is up to date, and you haven't opted out of receiving communications.
·Log into this specific website using your Harvard Key. Once you log in, you'll be added to our mailing list. (If you haven't yet claimed your HarvardKey, contact the HLS HarvardKey support line at +1 617-495-5631 or HLS Alumni Records at alumrec@law.harvard.edu.)
·Gmail may be filtering us into a secondary inbox, so that you're receiving but not noticing our emails. Try this:
o Log into your Gmail account on a computer (this doesn't work from a phone, or at least the process will be different on one).
o In the search bar, enter the following: from:(email_watch@omnimagnet.net)
o This should return every email you've received from us. If you find nothing, there's another problem. But if you do find our emails, continue:
o In the same search bar, there should be a small triangle to the far right. Click the triangle!
o Click the "Create Filter" button at the bottom of the box.
o Click the second-to-last checkbox called "Categorize as," and select "Primary" from the pulldown menu.
o Click "Create Filter" again – and you should be all set! Future messages should go to your primary inbox, where you're far more likely to see them.
Expand your network
Join the only official HLS Alumni LinkedIn Network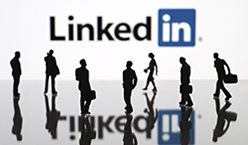 With 3,600+ alumni, Harvard Law School Alumni is the fasted growing and only official and secure HLS Alumni group on LinkedIn (open to alumni from HLS degree granting or equivalent programs, students, and current faculty). Join Today!
Virtual Events
Social distancing requirements have introduced an opportunity and need to convene virtually. Check out the

Virtual Resource Library

for

guidance on hosting digital events.
HarvardKey

HarvardKey is a secure login and password to streamline your access to several online alumni tools and benefits.
Visit

key.harvard.edu

to claim your HarvardKey today.

Need personalized help? Contact the HLS HarvardKey support line at +1 617-495-5631 or

alumrec@law.harvard.edu

.
Amicus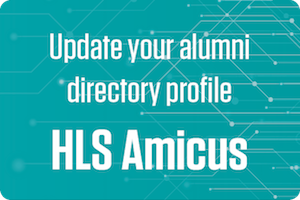 HLS Amicus is a community building tool, featuring an alumni directory, with advanced search and messaging capabilities.